Network marketing, multi-level marketing, social selling – different terms used to describe the same business model, a phenomenon that has been around for almost 100 years and is showing no signs of slowing down.

Changing attitudes towards traditional 9-5 jobs combined with our ever-growing obsession with social media make network marketing an attractive choice for many.

We dream of 'being our own boss' and achieving 'financial freedom,' and people promoting their MLM opportunities often promise all of that and more.

Picture this.

You're bored at work and you end up scrolling through social media.

You see an an old school friend bragging about her wonderful life as a business owner and how incredibly grateful she is to have been given such a fantastic opportunity, and you can't help but be curious – what is she doing?

More importantly, how can you do it too?

You look through some of her other posts and it isn't long before you see her promising that YOU TOO can achieve financial freedom and be a true #bossbabe like her.

'Hurry though,' she urges. 'Limited spots available!'

You send her a quick message, asking for more info.

Almost immediately she responds.

'Hey hun!' she says, before launching into a spiel about how you'd be perfect for her 'tribe,' and how all you have to do is recommend products to people on social media and you too, can be living the dream!

You are slightly suspicious when she tells you about the 'small start-up fee' of a few hundred dollars, but as she points out, 'all businesses come with start-up costs, and they're usually much bigger than this,' so you shrug and enter your card details into the website, figuring that you'll make the money back in no time.

Congratulations!

You have just been pitched to join a network marketing company.

Network marketing companies are everywhere at the minute, and unfortunately, they are not all that they may seem at first.

There are many myths about network marketing that are pushed onto people like you, the unsuspecting victim, and it is important that you know the truth about network marketing before you sign up to one of these companies.

In this article, we're going to outline just what network marketing is, before going over the most common myths about network marketing that you should watch out for.



What is Network Marketing?


Network marketing is also known as multi-level marketing, MLM, social selling and direct sales.

Network marketing has been around for years, and popular network marketing companies include Arbonne, Monat, Norwex and even Avon!

You don't receive a salary in a network marketing company.

Instead, you earn money from selling products to people you know and recruiting others into the business.

When you recruit a new person and that person begins earning money, you will earn commission from the sales and recruits generated by THAT person.

This continues down in multiple levels.

Imagine a triangle.

If the person at the very top of the triangle recruits 10 people, and every one of those 10 people recruit another 10 people, and each one of those people recruit another 10 people, you'll be making commissions from EVERYBODY within the triangle because they're all in your direct downline.

All you had to do was recruit 10 people and you make money from 1100.

While network marketing companies also give you the chance to make money from selling their products, most people prefer to recruit others because they stand to make a lifelong passive income from that person, whereas if they sell a product they're just going to receive a one-off commission.

The ultimate aim of somebody in a network marketing business then, is to have as many people in their 'downline' as possible, enabling them to form large amounts of passive income for little work.



Exposing The 11 Biggest Myths About Network Marketing


1. You will own your own business


People in network marketing companies will often say that they own their own business, but this just isn't true.

If you are part of a network marketing biz, you are an independent contractor for somebody else's business.

The problem is that when you join one of these companies, your upline will tell you that you are a small business owner, and because you have to file your own taxes, recruit people into your 'team' and can work from wherever you like, you might be inclined to believe them.

However, working from wherever you want or choosing your working hours does not make you a business owner.

There are thousands of jobs that will allow you to work from anywhere, and thousands more that will be fine with you getting the work done at whatever time you like, so long as the work gets done.

Being able to recruit people into your team is also not synonymous with being a business owner. There are tonnes of people who have the power to hire others because hiring is a part of their job description, not because they own the entire business.

It is also super important to note that you are not in control of anything in a network marketing business.

Some things which you have absolutely NO say over include:


The products you sell
The ingredients that go into the products
Whether the products are vegan-friendly
Product packaging
Company branding
Company logo
How much commission you receive per sale
How much to charge for the products
How the compensation plan is structured
Who hosts your website
What your website looks like and the features on it
Which shipping company you use
What the returns policy is
Which rank in the company you are
What you can and can't say when promoting products

Does this sound even remotely like owning a business to you?



2. Network Marketing is a great opportunity to make money


If you listened to network marketers, you'd think that network marketing was a sure-fire way to a million dollars, but this is just another myth about network marketing.

After spending 15 years studying over 350 network marketing companies, Jon M. Taylor, MBA, Ph.D. found that when you take into consideration how much people spend in these companies, 99.6% of people in network marketing companies either lose money or make no money.

When you think about the way that the business model is structured, this makes total sense – in network marketing company you are actively recruiting your own competitors, oversaturating the market, not receiving any base pay and paying money to join and participate.

Does that sound like financial freedom to you?


3. You get paid to recommend products to family and friends


The thing that separates a legal network marketing company from an illegal pyramid scheme is that network marketers are supposed to earn most of their money from selling products rather than from recruiting people into the scheme, and so network marketers will often say that they make money from recommending products to their social network.

Now, although this is partly true, it definitely doesn't tell you the full story.

First off, you get paid for selling the products, not just recommending them.

Network marketing isn't like influencer marketing, where an influencer gets free products and financial compensation just for posting about the products – in network marketing, you have to buy the products yourself, and you only get paid if you make an actual sale, regardless of how many posts you've made about the product.

It is also close to impossible to make a full-time wage simply on product sales.

In any network marketing company, the real money to be made is from recruitment.

Network marketers get huge bonuses and promotions from recruiting others into their team, and the more people they recruit, the more money they make.

Think about it – if you had to choose between a one-time commission vs a lifetime of commission from another person's sales and recruits, it's a no-brainer – why would you even bother selling products when selling the 'business opportunity' is so much more lucrative?



4. You get a free car


Ever heard the saying, 'there's no such thing as a free lunch?'

Well, there's also no such thing as a free car (when it comes to network marketing anyway) and this is another one of the big myths about network marketing.

The 'free car bonus' is just another sneaky recruitment tactic, and as with most things in this industry, it isn't quite what it seems.

The way it works is this – once you hit a certain rank within a network marketing company, you may qualify for a 'free' car. When this happens, you will receive payments towards the lease of a car. The car itself has to be taken out by you, in your name, and you must continue to hit your monthly targets in order to receive the car payment.

If your rank in the company drops or you don't hit your sales target one month, you will no longer qualify for the car bonus, leaving you with an expensive car to pay for and nobody to help you.

Moreover, if you leave the company, you don't just get to hand the car back – you are stuck with a luxury car in your name (often plastered with the company logo), and no way to pay for it.



5. The people who failed didn't work hard enough


In a system that is stacked against you, where 99.6% of participants lose money and the vast majority of those that do make money not making enough to replace a full-time job, network marketers are brainwashed into blaming you, the victim, for failing in a system that is statistically impossible for most people to succeed.

Your upline will tell you that 'you just aren't working hard enough,' and 'if you wanted it badly enough you'd hustle harder,' and 'you have to spend money to earn money.'

If you decide to drop out of the company because you are losing too much money, your former team members will be told that you simply didn't have what it takes, and that some people aren't destined for greatness.

While hard work in any business is essential in order to succeed, it isn't enough to just 'work hard' in network marketing.

The only way to succeed in network marketing is by getting in at the very beginning, tap into a totally unsaturated market, and be a pro at recruiting – and even then, your chances are slim.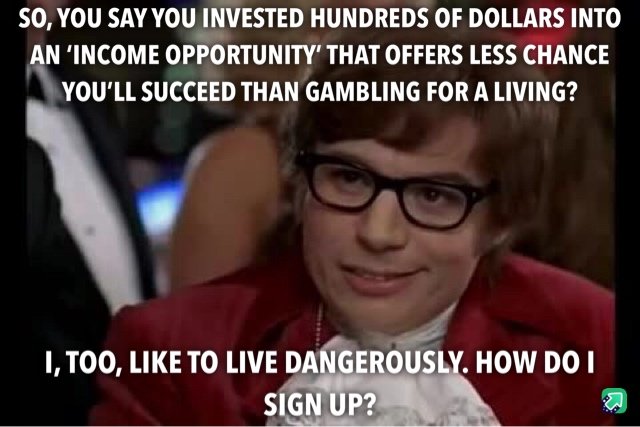 6. You can work in 'pockets of time'


Another one of the big myths about network marketing is that you can make money in 'pockets of time' and that network marketing is the perfect side hustle for busy people.

This sounds fantastic, and if it were true, then it would be fantastic.

However, as soon as you sign up, you will be told that 'you get out what you put in' and 'not everyone is cut out for this business.'

You will be expected to hustle 24/7, attending team calls and webinars, cold messaging hundreds of strangers every day, posting multiple times on social media, mentoring your recruits, checking in with your upline, following up on leads and 'turning every interaction into an opportunity.'

If you're talking to somebody at the grocery store or the gym, you will be expected to try and sell the 'opportunity' to them.

Every single social interaction should be turned into a sales pitch.

Some network marketing companies even require their reps to read self-help books every day!

It's pretty safe to say that success in network marketing requires more than just 'pockets of time.'



7. You will make passive income


To anybody who earns by the hour or is on a salary, passive income sounds incredible.

However, while it can be, true passive income is also widely misunderstood.

Here's why.

Let's say you recruit somebody and then begin earning a commission every time they make a sale.

While this would technically be considered passive income, you are actually still working in order to be able to earn that money.

First, you have to train the person and be there for them to check in with whenever they have a question.

You might be writing word-for-word sales pitches, scripting her responses, brainstorming her social media strategy, helping her with her posts and hosting zoom calls to motivate her.

You also need to take into account how much work you put in to get that recruit in the first place.

How much time did you spend, unpaid, convincing this woman to join your team?

Did you send her 'free' product samples that you paid for?

Did you message 200 people before her who weren't interested?

Did you post daily highlights, reels, stories and TikToks just to catch the attention of women like her?

It's great if this woman goes on to sell a lipstick and you make a 30% commission from the sale, but unless you have commissions coming in from thousands of product sales, the hard graft isn't really worth it.

Unless you're at the very very top of the company, you won't be making any TRUE passive income.

You will simply be making small commissions that equate to you earning far less than minimum wage for the amount of hours you've put in.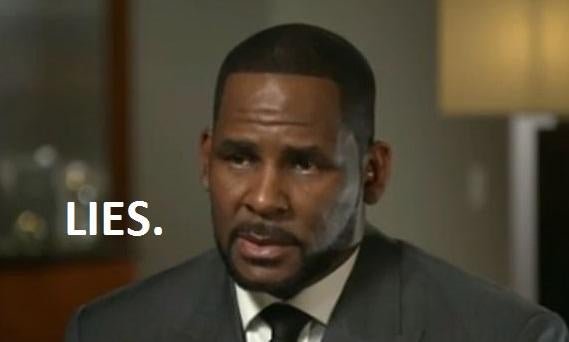 8. There is no risk


HOW?

How is there no risk?

A 99.6% chance of losing money sounds like a pretty big risk to us!



9. All jobs are pyramid schemes


Many network marketers like to say that if an MLM company is structured like a pyramid scheme then so is a regular corporation.

This is because many businesses are triangular shaped, with the CEO at the top making the most money, and the workforce at the bottom making the least.

However, just because a business is triangular in structure does not make it a pyramid scheme.

In a regular business, the workforce are not paying to work, they are not losing money and they are getting paid a guaranteed income.

They also enjoy benefits such as sick pay, paid holiday and health insurance and do not need to infinitely recruit people into the company.

None of this can be said when it comes to network marketing.




10. You will become part of an amazing community


When you join a network marketing company, you will indeed be introduced to a network of supportive and positive people who will become your friends.

For many people, this 'sisterhood' is the best thing about what they do, and it might feel like that.

However, how strong are these relationships really?

Your upline is your friend because she makes money if you make money, plain and simple.

As for everyone else?

Wait and see how long they stick around if you quit the biz – the majority of people find themselves kicked out of group chats and blocked if they decide to leave, kiiinda like what happens if you join a cult.



11. Most people only sign up for discounts


Network Marketers like to say that the income disclosure statements are not accurate because most people only sign up to the company to get discounted products and not to 'start their own business.'

This is because MLM companies will offer discounted products to their distributors, and so the theory is that some people will pay the $100 sign up fee (or however much it is) in order to be able to buy discounted products for 12 months.

The problem with this however, is that the income disclosure statements only take into account ACTIVE distributors, meaning that the only people shown on the document are people who are generating a certain amount of sales every month.

The fact that only 'active' distributors are shown on the income disclosure statements stops this MLM lie in its tracks.




Myths About Network Marketing | Final Thoughts


As you can see, there is much more to network marketing than meets the eye.

Chances are, you won't become rich if you join an MLM and the work will be a lot harder than you think.

Here at Not Your Boss Babe we do NOT recommend network marketing as a legitimate business opportunity, but if you still want to give it a go, then hey, you do you!

If you're looking for something similar to network marketing with a much higher chance of success, you might want to look into affiliate marketing instead.

You can read about the differences between affiliate marketing and network marketing here.

In the article above, you will find the key differences between network marketing and affiliate marketing, as well as a bunch of handy tips and resources to get you started!




Alternatives to Network Marketing


If you're looking for a side hustle or a work from home job, you may find these articles helpful:

Advantages and Disadvantages of Blogging

Easy Freelance Jobs for Beginners

Best Side Hustles for Single Moms

How to Sell Feet Pics Online

Secrets to Selling on Poshmark

Profitable Digital Products to Sell on Etsy

How to Become a Micro Influencer

That's about it for today, but as always, if you have any questions then don't hesitate to leave them in the comments section below and I will get back to you!

Until next time,

XOXO



Become a VIP


Disclaimer: Not Your Boss Babe uses affiliate links. This means that if you make a purchase on a site that we recommend then we may make a small commission at no extra cost to you.